Smooth Ivory Polybeeswax Candle Covers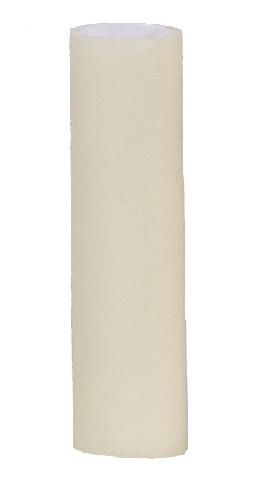 Smooth Ivory Polybeeswax Candle Covers
These Smooth Ivory Polybeeswax Candle Covers are available in Standard Size (1 3/16" inside diameter and 1 5/16" outside diameter) and in Candelabra Size (13/16" inside diameter 7/8" outside diameter). They come in 4 and 6 inch heights. Please indicate whether you need 4 or 6 inch and Standard or Candelabra size when placing your order.
PolyBeesWax® candle covers are made of durable poly resin material but have the look of natural wax. Not only are resin covers heat resistant and washable, they will maintain their color and shape indefinitely. Each of these covers are individually handmade with its own unique, hand applied drip pattern.
NOTE: THESE COVERS ARE NOT TO BE USED AS AN INSULATOR . An insulator is a paper sleeve that goes between the socket and the Candle Cover. If your insulator is missing or brittle, Please see our "Lighting Supplies" page for a replacement.
For Specific Information on size, see "How To Measure For Candle Covers" at the top of this page.