Rewiring Kit For Vintage 3 Arm Floor Lamp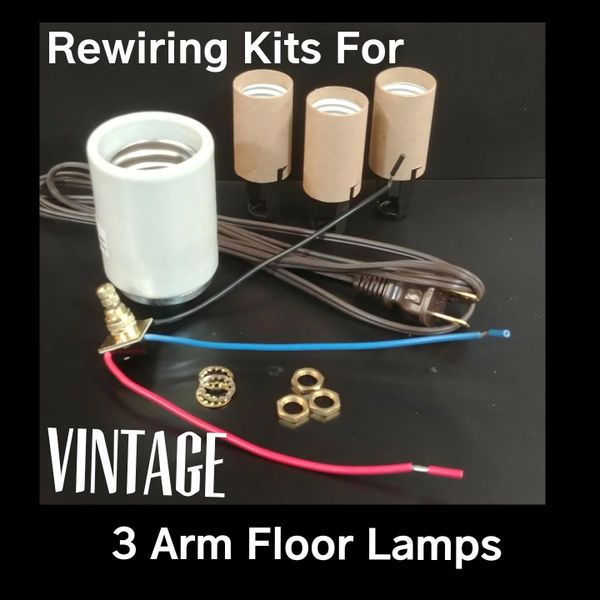 Rewiring Kit For Vintage 3 Arm Floor Lamp
This Kit Contains everything you need to rewire a Vintage 3 Arm Floor Lamp with a Center Mogul Socket. It includes a 12 foot one piece Floor Lamp Cord and Plug Set (in your choice of colors), 3 side arm sockets, one rotary switch, an (oversized) Mogul Center Socket and four wire connectors. All wiring diagrams and instructions are included.
PLEASE NOTE: The above rewiring kit is for a Vintage Floor Lamp which usually has an oversized Mogul Bulb and an oversized porcelain socket in the center. (Which is larger than a standard bulb base) However, some Vintage Floor Lamps have a standard size socket in the center. Please check the size of the center socket and be sure to select the right center socket size  for your lamp.
* If your Floor Lamp currently has an oversized porcelain Mogul Socket, You CANNOT Change this socket to a standard size socket because lamps with a porcelain Mogul Socket screws onto a 1/2" threaded center rod. A standard Socket screws onto a 3/8" threaded center rod. Also, because of the height difference, the port for the stem (or turn knob) would not line up. Please note that we do sell the Mogul Bulbs or, if you prefer to use a regular bulb, we also sell the adaptors to convert the Mogul Socket to accept a standard bulb.
Also Note That: Some Vintage Floor Lamps have a light in the base of the lamp. If your Floor Lamp has a light in the base at the bottom CLICK HERE for a Floor Lamp Base Light Kit which comes with a bottom candelabra socket and a push button bottom switch. This also comes with complete wiring diagrams and instructions.
For a Replacement Mogul Bulb, CLICK HERE