Rewiring Kit For Vintage 3 Arm Floor Lamp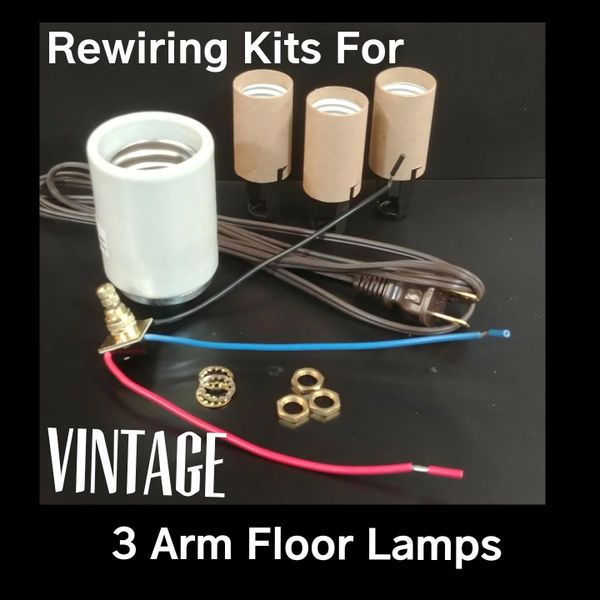 Rewiring Kit For Vintage 3 Arm Floor Lamp
This Kit Contains everything you need to rewire a Vintage 3 Arm Floor Lamp with a Center Mogul Socket. It includes a 12 foot one piece Floor Lamp Cord and Plug Set (in your choice of colors), 3 side arm sockets, one rotary switch, an (oversized) Mogul Center Socket and four wire connectors. All wiring diagrams and instructions are included.
PLEASE NOTE: The above rewiring kit is for a Vintage Floor Lamp which usually has an oversized Mogul Bulb and an oversized porcelain socket in the center. (Which is larger than a standard bulb base) However, some Vintage Floor Lamps have a standard size socket in the center. Please check the size of the center socket and be sure to select the right center socket size  for your lamp.
Also Note That: Some Vintage Floor Lamps have a light in the base of the lamp. If your Floor Lamp has a light in the base at the bottom CLICK HERE for a Floor Lamp Base Light Kit which comes with a bottom candelabra socket and a push button bottom switch. This also comes with complete wiring diagrams and instructions.
For a Replacement Mogul Bulb, CLICK HERE