On/Off Standard (Medium) Base Socket With Paper Insulator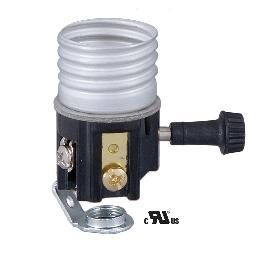 On/Off Standard (Medium) Base Socket With Paper Insulator
This is a replacement Standard (medium) base Socket that comes with a paper insulator. Unlike a regular table lamp socket which would simply fit inside of a brass outer shell, this type of socket has a "Hickey" (Yes, that really is the technical term for it), which is a threaded metal piece mounted below the socket that allows it to screw onto a threaded rod within the neck of a lamp. This type of socket is most often used in a vintage Parlor lamp with a wide 3" brass Gallery, like the one pictured here.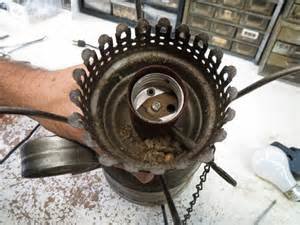 Because of the distance from the socket to the outer wall of the gallery, a brass key Extension is often needed in order to make the key (turn knob) more accessible. If you need a key extension, you can find one in our lighting supplies section.
For Wiring Instruction and Diagrams, visit our "Tips and Techniques" and "Wiring Diagrams" pages.