Antler Style Candle Covers With Slanted Base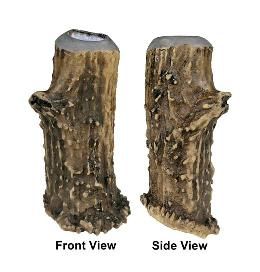 Antler Style Candle Covers With Slanted Base
These unique Antler Candle Covers with a Slanted Base are perfect for antler chandeliers or rustic fixtures and sconces. These polyresin covers have a slanted base for mounting on antler arms or irregular surfaces. These are available in Candelabra size (13/16" inside diameter 7/8" outside diameter) and come in 4 inch heights.
NOTE: THESE COVERS ARE NOT TO BE USED AS AN INSULATOR . An insulator is a paper sleeve that goes between the socket and the Candle Cover. If your insulator is missing or brittle, Please see our "Lighting Supplies" page for a replacement.
For Specific Information on size, see "How To Measure For Candle Covers" at the top of this page.