3-Way Socket For 3-Way Light Bulbs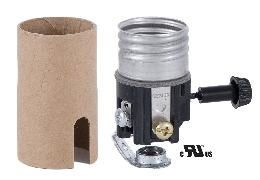 3-Way Socket For 3-Way Light Bulbs
This is a replacement 3-Way Socket for a 3-Way Light Bulbs. This socket has a standard (Medium) base and a paper insulator. Unlike a regular table lamp socket which would simply fit inside of a brass outer shell, this type of socket has a "Hickey" (Yes, that really is the technical term for it), which is a threaded metal piece mounted below the socket that allows it to screw onto a threaded rod within the neck of a lamp. This type of socket is most often used in a vintage Parlor lamp with a wide 3" brass Gallery, like the one pictured below. You can however, easily remove the hickey by removing the screw that holds it in place in the base of the socket. This will allow you to use it in a regular socket sleeve (brass outer shell) on a standard table lamp.
For Wiring Instruction and Diagrams, visit our "Tips and Techniques" and "Wiring Diagrams" pages.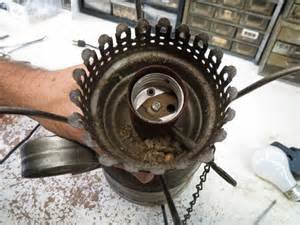 Because of the distance from the socket to the outer wall of the gallery, a brass Key Extension is often used in order to make the key (turn knob) more accessible. If you need a key extension, you can find one in our lighting supplies section.